We had exciting things happening here at Chattaroy. On Wednesday there was extra sugar in the building with many classes having treats. I hope no one had a stomach ache! Thank you to our parents who were able to come and spend time here with us. THANK YOU for voting! Both of the levies passed and we look forward to continuing our work to help our children read, write, do math and learn about many things. We are excited about our "Winter Reading Olympics" and all of our students earning a gold medal. Younger students may be read to and that time counts as well.
Our late start was spent exploring the MAP program and how to use it to reach individual needs and strategies for success. Also, the Smarter Balanced Practice on line and how to prepare our students for that assessment.
A short reminder that we are a fragrance free building. We have students and staff who have difficulty breathing when strong scents are in the air.
Lot's of snow to play in today. :)
Juanita Murray
Principal

We will kick off our Winter Reading Olympics on Tuesday, January 30th. Look for information coming home with your child as to the number of hours that they need to read in order to win a medal.

Our 100th day of school is Friday February 9th.

Our next late start is Wednesday, February 14th. School starts 2 hours later at 9:50 am and students should not arrive at school until 9:15 am. This is also Valentine's Day so look for information regarding any celebrations coming home from your child's teacher.


Mission and Vision Statement
Chattaroy Elementary staff, students, and parents work together to create a safe, challenging, and stimulating environment that nurtures the joy of learning. Our children are confident, productive, eager to explore and believe they can make a difference in our world.
Winter is upon us. Please have your children dress for the weather. If they need to wear snow boots to school have them pack their tennis shoes as well. Boots are big and clunky.
If it snows the children are allowed to go out in the field and play as long as they have snow pants and boots to keep their clothes and feet dry.
One last thing. If it snows enough the children will go sledding during their PE time with Mrs. Pangerl. She has all the sleds they will just need the gear.
If you need help getting winter clothes please contact the office. 509-464-8289
Family STEM Night, November 16, 2017
Kindergarten Registration
Kindergarten registration will begin on March 1st for the Fall of 2018. Children must be 5 years before September 1, 2018 to be eligible for registration. A copy of a birth certificate and a current immunization record is required for registration. The school office will be open on March 1 from 7:30 am until 5 pm and the first 30 children to register will receive a special surprise. After March 1st you may register your child at the school office where the child will attend between the hours of 8:30 am and 2:00 pm.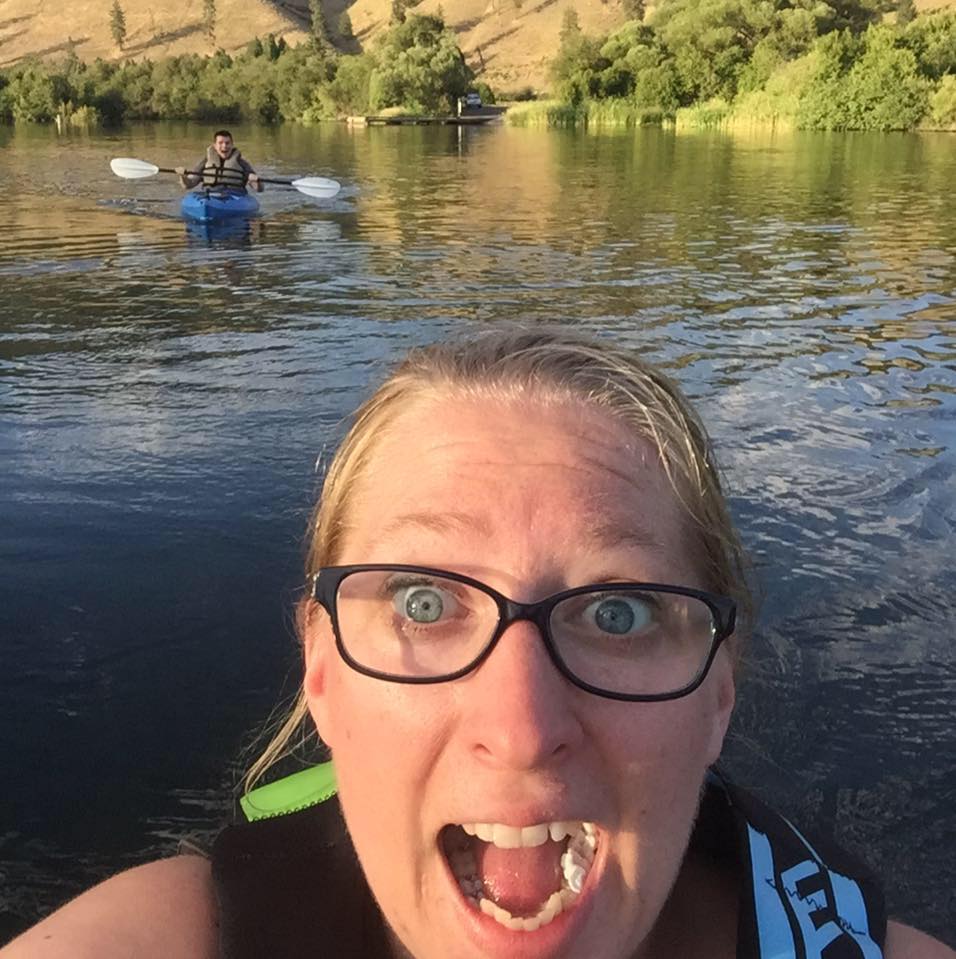 We will start up our Staff Spotlight again to give all of you a chance to get to know folks on our staff a little better. We ask a few non traditional questions to give you a peek into our amazing staff.
This month we are spotlighting our fantastic counselor, Chris Webber. Chris joined our staff at the beginning of the school year and is here all day Tuesday, Wednesday and Thursday. Here are the 5 questions:
1. If you could have dinner with anyone in the world (living or not) who would it be or why? "My grandparents. A lot has happened since they passed and it would be nice to share the memories."
2. What is your ideal Sunday breakfast? "Pancakes with peanut butter and syrup! Yummm! And you can't forget the bacon and sausage!"
3. What is your favorite quote? "Choose your friends wisely, for you will tend to be like them."
4. If you were going on the the TV show Survivor, what personal item would your bring? "A picture of my husband and my dog."
5. Who is your favorite teacher and why? "My high school math teacher, Mr. Joireman. I did not like Math, but Mr. Joireman encouraged me and helped me every step of the way. Over time, my confidence grew and math was a little more fun."